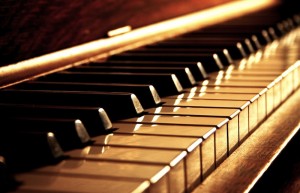 While our worship services follow a traditional liturgical pattern, we try to use contemporary elements and simple language to keep them meaningful and relevant to those worshipping. The atmosphere is that of a friendly country church where people are comfortable whether wearing their Sunday best or boots and blue jeans.
Our music is led by the PCPC choir with piano accompaniment and we sing from the new "Glory to God" Presbyterian hymnal. Hymn selections are a blend of traditional hymns, gospel songs, new hymns and contemporary praise songs. The choir regularly offers special selections and the congregation is always blessed by their spirit and sound.
We celebrate The Lord's Supper (Communion) on the first Sunday of each month and all who trust in Jesus Christ as their Lord and Savior are invited to partake.
Children are welcome and encouraged to be in worship as part of the congregation. Each worship service features a children's sermon where children are invited to come to the front for a special time geared toward younger disciples.  The children also help lead worship when we have a fifth Sunday in a month.
God brings all things into being by the Word. God offers the Word of grace, and people respond to that divine initiative through the language of worship. They call God by name, invoke God's presence, beseech God in prayer, and stand before God in silence and contemplation. They bow before God, lift hands and voices in praise, sing, make music, and dance. Heart, soul, strength, and mind, with one accord, they join in the language, drama, and pageantry of worship.
(Excerpt from The Constitution of the Presbyterian Church USA, Part II: Book of Order)